Business Dining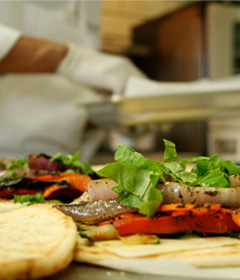 We understand that the demands of the workplace can be challenging. Four Seasons offers customized solutions to meet those challenges through a commitment to creativity and exceptional service. From a caramel cappuccino to jumpstart the morning to a grilled vegetable panini to hit the spot at lunch, we know how to create a dining experience that will excite your employees and fuel them to perform at their fullest potential.
We give your employees something different everyday, making it easy to choose our program over the restaurant down the street. Our dedication to continuous improvement means we constantly develop new menus to match the preferences of our customers with customized dishes. They will look forward to new flavors, fresh high-quality meals, ethnic foods, and nutritious options everyday.
From Grab & Go lunch boxes to take home dinners, Four Seasons has the versatility to meet the needs of the hectic work environment. We also offer coffee and vending programs and corporate catering.
Busy professionals need food that will energize them and taste good - thatís exactly what Four Seasons has to offer. We'll work hard to give you complete confidence in us so that you can focus on your business, not your food service needs. See the full range of services Four Seasons can provide for you.