Nutrition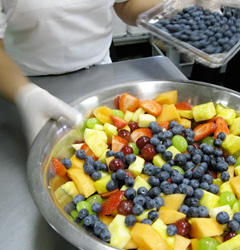 Four Seasons recognizes the importance of nutrition, which is why we work hard to ensure that all our customers receive a healthy, well-balanced diet. Our commitment begins with the quality of the ingredients we use. When you bite into our grilled chicken sandwich with fresh mozzarella, roasted red peppers, and fresh basil served on french bread, that difference will show. We cook our dishes from scratch using the finest ingredients, with cooking techniques that preserve nutrition. Our seasoned veterans will select wholesome ingredients and avoid using processed foods.
At Four Seasons, we donít believe in cycling menus. We have maintained a reputation for innovation and excellence by consistently developing new menus every week that support a healthier lifestyle. This also allows us to make use of regional fresh products according to availability, and we purchase more from local farms every year.
Our experienced chefs develop menus that encourage people of all ages to choose healthier foods. We go above and beyond the recommendations of the United States Department of Agriculture and the Board of Health regulations. The products we purchase are accredited with the Child Nutrition (CN) label, and our services are recommended by the Child and Adult Care Food Program (CACFP). We also consult with professional dietitians to meet the special dietary needs of individuals.